Save Money with Energy Efficient Boilers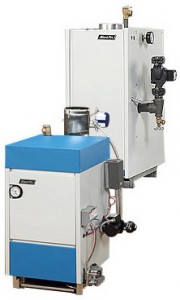 Is your home heated by a boiler? If you have traditional water-filled radiators, then you have a boiler heating your home. More than 50% of homes in Canada rely on boilers and radiators for heat.
When your boiler is operating efficiently, when it's serviced and checked regularly, you will save money. If you have an older system and have noticed that you're not getting the same heat that you once did, it may be time to upgrade to a new system.
Today's Energy Efficient Boilers
Hot water boilers provide an exceptional way to heat your home. Technological advancements and innovations have led to higher energy efficiency as well as allowing boilers to be space efficient as well. With decreased size and more reliable output, today's new boiler systems are better than ever.
Mckinnon Heating Cooling Proudly Sells and Installs Slant/Fin Boilers
We are proud to offer the top of the line Slant/Fin boilers. Our partnership with Slant/Fin is more than three decades strong and they provide
The highest quality boilers
Reliability
Dependability
Durability
An unsurpassed warranty
And local technical support and parts distribution centres
Get the Comfort You Deserve
When you're comfortable in your home, you tend to be happier. During the harsh winter months, it's important to have the best boiler heating your home. If you need to upgrade, the time to do it is now. If you need a service or repair, don't wait until the frigid months are upon us.
We also service a number of other boiler brands, including:
NTI
Teledyne
Laars
Ruud
Slant Fin
Weil McLain
Get the comfort you deserve. Call Mckinnon Heating Cooling today.